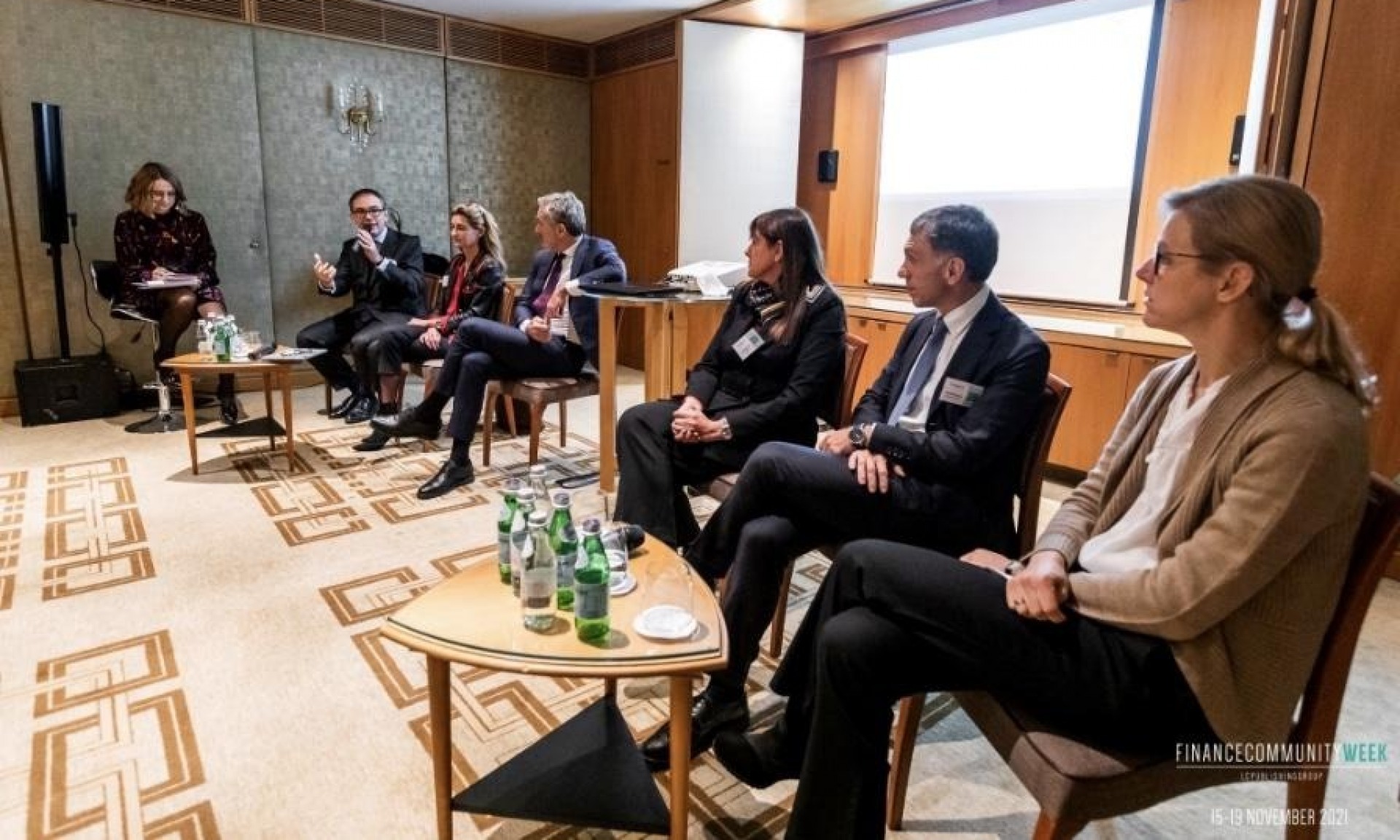 01 December 2021
Financecommunity week 2021, day two. The diary
Entra nel vivo la Financecommunity Week 2021, con una seconda giornata ricca di eventi a tema finance, tutti dal Four Season Hotel di Milano.
La giornata è iniziata alle 8:45, con la tavola rotonda "Creating Sustainable Value Through Great People Decisions" e Ilaria Iaquinta, managing editor di LC Publishing Group, a moderare gli interventi di Tommaso Arenare di Egon Zehnder; Alberica Brivio Sforza, managing director Italia di Lombard Odier; Valerio Camerano, managing director di Algebris Investments; Ilaria Dalla Riva, head people & culture di Unicredit Italia; Claudio Morpurgo di Morpurgo e associati; e Alessia Mosca, director di Crédit Agricole.
A seguire, alle 11, un consueto appuntamento per la Financecommunity Week: la tavola rotonda dedicata ai private clients e ai family offices, quest'anno intitolata "Private Clients and Family Offices: Need od Tailor Made Solutions & Opportunities for the Italian Growth" e moderata da Eleonora Fraschini, editor di Financecommunity.it.
A comporre il panel degli speaker Paolo Basilico, ceo di Samhita Investments; Alberto Cirillo, managing director di Goldman Sachs International; Francesco Di Carlo, co-managing partner di Fivelex studio legale e tributario; Angela Gamba, family officer di FPS Investments; Paolo Gualdani, ceo di Angel Capital Management; Francesco Mantegazza, co- managing partner di Fivelex studio legale e tributario; e Stefano Vecchi, head of wealth management & private banking Italy di Unicredit.
Nel pomeriggio, alle 14, una tavola rotonda intitolata "Carried Interest & Tools to Attract International Funds Managers" e composta da Arabella Caporello, partner di L Catterton; Paolo Ludovici, partner di Gatti Pavesi Bianchi Ludovici; Michele Marocchino, managing director di Lazard; Fabrizio Pagani, global head of economics and capital market strategy di Muzinich & Co.; e Maurizia Villa, managing director di Korn Ferry.
Alle 16:30 l'ultimo evento della giornata. La tavola rotonda "Private Equity: Looking Far... East", animata dagli interventi dei seguenti speaker: Giovanni B. Andornino, assistant professor of international relations of East Asia al dipartimento di culture, politics and society dell'Università di Torino; Frederic Azemard, managing partner di TR Capital (Hong Kong); Fred Hu, founder, chairman and ceo di Primavera Capital Group (Beijing); Pietro Mazza Midana, founder and member of the board di Fenera & Partners sgr; Emanuele Musso, head of institutional sales and member of the board di Fenera & Partners sgr; Giacomo Stratta, founder, ceo and cio di Fenera & Partners sgr; Kasper Wichmann, senior portfolio manager of private equity di Nykredit Asset Management.
Tags: 2021,cn2,diario,Financecommunity Week,Four Season